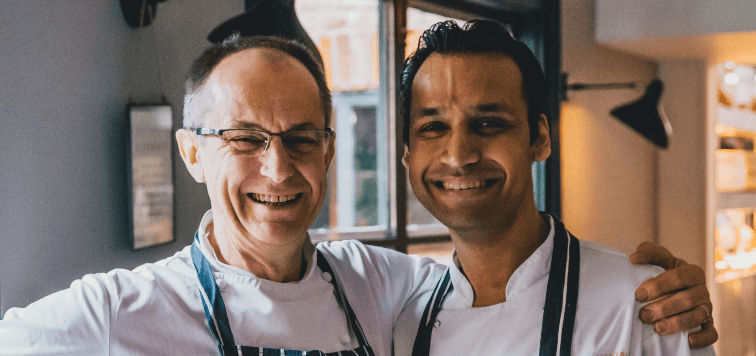 The making of a menu
Normally our pubs, brasseries and head office would have been a hive of activity and excitement as our new spring menu launched. Sadly, as we are closed for the time being, we can't launch our menu but I wanted to give you a little insight into the time, passion and dedication that the teams put into a new menu.
We change our menus seasonally as we believe that working with the seasons ensures that our menus use the freshest, best ingredients that are as sustainable as they can be.
We started thinking about all things spring well before Christmas! Research is key so, whilst we are not trend led, we look at upcoming and current directions in food and drink. Each and every guest is important to us so we ensure our menus include something for everyone without compromising taste or quality whether they are vegan, veggie or need to manage an allergen or intolerance.
Armed with our research, we then start to look the food itself and this is where it gets fun! It truly is a collaborative approach with Raymond Blanc, Executive Chef Clive, the marketing team, our Managing Director and finance teams all getting on board to share ideas and decide on dishes. It goes without saying that there are some favourites that never come off the menu such as our classic souffles!
Once we have an idea of how the menu will look, Chef Clive heads to the kitchen to start developing recipes. A whirl of activity during this time, Clive is looking to create dishes that are uniquely ours. He is in constant contact with our suppliers to see what they have available and also searching out more unusual ingredients. Once he has created the dishes, Raymond and Clive then debate, refine and perfect them.
During this time, the marketing and design team are also brainstorming ideas on how to launch the menu from how the photography shoots will be styled, the print and digital campaigns to support the launch and also the design of the menus themselves.
Once Clive and Raymond have emerged from the kitchen, we get to taste the new dishes! One of my favourite parts of the process. Even at this stage there is an exchange of ideas and opinions as everyone believes in making the dish the very best it can be.
Training is key at this stage and our People Team organise cook-offs where every Head Chef and every General Manager gather together in one of our sites to try the new dishes together and feedback on the new menu. All our teams know the menus inside out.
Whilst the teams are busy training and preparing for the menu launch, the marketing team are proof reading menus galore! Attention to detail is essential at this point with every accent, every full stop and every spelling checked, checked and re-checked! Alongside this I spend two days with Clive and the wonderful photographers who capture our vision of the new dishes and make them look as gorgeous as they do in real life. You can almost taste the dishes when you see the photos!
Finally, with dishes ready, menus delivered to sites and everyone raring to go, launch day is here! What has been months in the making, we are finally allowed to share with all our lovely guests and it is with a sense of pride that we see the wonderful feedback we get on our new dishes. Everyone, whether they are in the kitchens, front of house or in BBCo HQ has a collective sense of ownership and pride in the new menu because it truly is a collaborative effort and a labour of love over many months.
We are sad we can't bring you our new menu right now, but we can't wait to share it with you when we re-open. As a teaser and something to try at home here's a link to a recipe based on one our new desserts, chocolate fondant, melt in the mouth deliciousness!