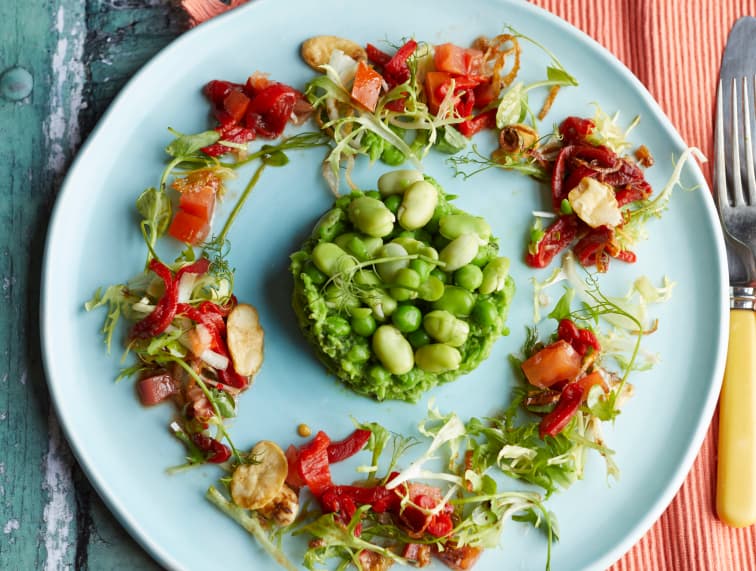 Salad Days….
Serves 4
Try the tasty new salads on our new summer menu
With the sun shining and our garden looking absolutely glorious, we can think of nothing better than sipping on a glass of chilled wine as we tuck into a lovely fresh, flavoursome salad. Our new menu has some wonderful salads for you to try such as a classic salad niçoise with perfectly seared Yellowfin tuna which will transport you to the French Riviera with every mouthful.
Our pea and broad bean salad has become a firm favourite since we introduced it on our spring menu and it is too good to say goodbye to just yet. If you don't feel like popping in or are hosting friends for a weekend barbecue then we have created a version that is easy to prepare at home but guaranteed to impress your guests. It's a great mix of store cupboard and freezer ingredients with just a few additional fresh ingredients.
For the dressing
2 large tomatoes

1 shallot, finely diced

Red chilli, deseeded and finely chopped

150ml extra virgin olive oil

1 garlic clove, crushed

2 tbsp white wine vinegar

Pinch of caster sugar

100ml tomato juice
For the smashed minted peas
475g frozen peas

2 tbsp extra virgin olive oil

Small bunch of mint, leaves picked and finely chopped
To serve
Large handful of frozen peas

Large handful of frozen broad beans

1 x bag frisée salad

1 x bag pea shoots

Handful crispy fried onions (shop bought works fine)

Handful fried, salted broad beans (habas fritas if you are looking for them in a supermarket. If you can't find them just add some extra onion for crunch)

2 piquillo peppers from a jar, finely sliced

Pomegranate molasses (if you  can't find this then a good quality thick balsamic vinegar will work nicely)
Method
To make the dressing, fill a saucepan with water and bring to the boil. Prepare a bowl of iced water (it needs to be big enough to hold the tomatoes). Score a cross on the top of each tomato with a sharp knife and plunge into the boiling water for 10 seconds. Remove with a slotted spoon and refresh in the bowl of cold water. Once cool, skin the tomatoes, starting at the top where you scored the cross.
Quarter the tomatoes and de-seed them. Discard the seeds and juice. Stack the quarters on top of each other and dice finely, taking care not to crush the tomatoes as you chop them. Mix with the remaining dressing ingredients and season to taste with salt and pepper. Set aside.
To make the smashed peas, boil a full kettle. Place the peas in a large sieve or colander and pour the boiling water over them to defrost. Put roughly a third of the peas in a bowl and set aside. Place the remaining two thirds in a larger bowl with the olive oil, mint and salt and pepper. Crush the peas using a fork or potato masher but make sure that they still retain some of their texture. Stir in the whole peas.
Boil another kettle of water and defrost the peas and broad beans for the garnish in the same way.
To serve the salad,  pile a generous spoonful of pea and mint puree in the middle of each plate (or pile the whole lot into a large serving bowl so your guests can help themselves) . Top with a some of the whole peas and broad beans, scatter the frisée and pea shoots and spoonover the tomato dressing. Decorate with the crispy fried onions, fried broad beans and pepper slices. Finish with a drizzle of molasses (or balsamic)
Tuck in and enjoy!