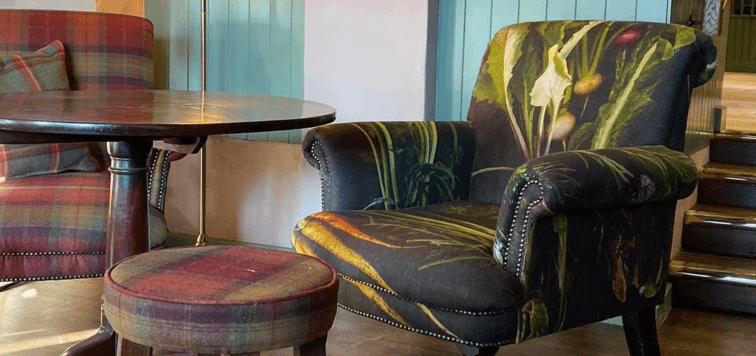 Our Truly Green Chair!
Our vintage wingback vegetable chair takes pride of place at The King's Arms in Prestbury. Sad and lonely… it was left in the pub before we refurbished it, and our Head of Design, Inge, decided we simply couldn't let it go. 
It was lovingly refurbished from the inside out by Studio Flox. The Cotswold country garden ideal being a running theme in the design of The King's Arms, our Head of Design decided that the chair should be decorated with a gorgeous vegetable print. This was provided by Babylon Storen, not to mention the fact that their fun tea towels were used to create our fantastic cushions you'll find dotted around the pub. 
Whilst being upholstered, even some of the vintage studs were saved from the chair keeping its true rustic and authentic feel. Sustainable decor is very important to us, so bringing this old chair back to life seemed only right. And there we have it, our unique vegetable chair that is bespoke to The King's Arms. Now… when you're getting a picture in this vegetable chair, you know the story of love that went into saving it!