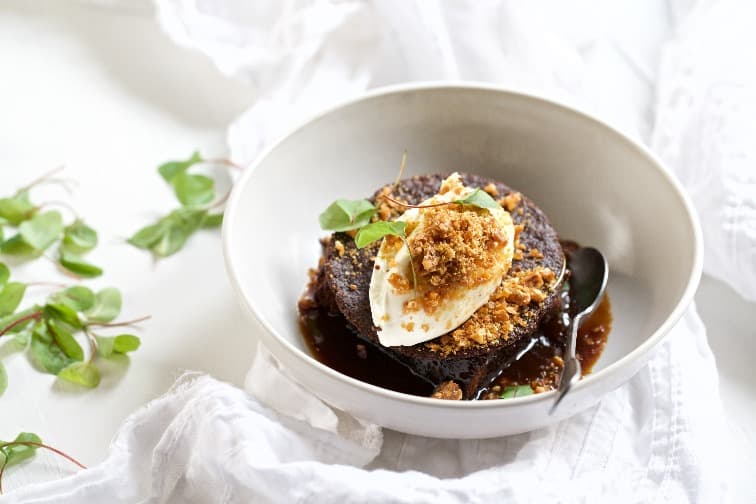 Our favourite sticky toffee pudding recipe
Serves 4
Our spring menu features the best sticky toffee pudding ever (even if we say so ourselves). If you can't wait until then to tantalise your tastebuds with this decadent dessert, why not give it a go at home with our amazing recipe.
For the crumble biscuits
150g unsalted butter

100g demerara sugar

50g caster sugar

50g ground almonds

Pinch of salt

100g plain flour

2 tbsp cocoa powder

Zest of 1 orange
For the pudding
100g dates, roughly chopped

85g unsalted butter, softened at room temperature

140g soft dark brown sugar

2 free range eggs, lightly beaten

180g plain flour

1tsp bicarbonate of soda
For the sauce
50g butter

200g demerara sugar

125ml double cream
You will also need
8 or 9cm biscuit cutter

20cm square baking tray
To make the biscuits
Preheat the oven to 180º/160º fan/Gas mark 4. Put all the ingredients into a food processor and pulse to fine crumbs. Tip the crumbs into a large bowl and bring together by hand.
Place half of the dough between two sheets of greaseproof paper and roll to the thickness of a pound coin. Remove the top layer of greaseproof and cut out as many rounds as you need, removing and freezing any offcuts with the remaining dough (see note). Slide the rounds on the greaseproof paper onto the baking tray and bake for 10-15 minutes until golden and crispy. Leave to cool on the tray for a few minutes then carefully transfer to a wire wrack to cool completely.
To make the sponge
Keep the oven at the same temperature and line a 20cm square baking tray with baking paper.
Put the dates in a bowl and pour over 80ml water from a freshly boiled kettle. Set aside.
In another bowl, cream together the butter and sugar until pale and fluffy. Add the eggs a little at a time, making sure you incorporate well before the next addition. Sieve the flour and bicarbonate of soda into the bowl and carefully fold into the mixture.
Mash the dates up with a fork and then pour into the batter with their liquid. Stir gently to mix in.
Pour the batter into the prepared baking tin and bake for 25-30 minutes or until a skewer inserted into the middle comes out clean.
To make the sauce
Put the sugar and butter into a small heavy-based saucepan and cook over a gentle heat, stirring until the sugar has dissolved. Whisk in the cream and bring to a boil. Simmer for 1-2 minutes before taking off the heat.
To serve
Cut the pudding into equal squares and place into a bowl, pour over the sauce and top with a biscuit. Finish with a dollop of crème fraîche.
N.B. the biscuit mixture may make more than needed for this recipe, but you can always roll the dough into a log, wrapping it tightly with cling film, and freeze it. Slice as needed.