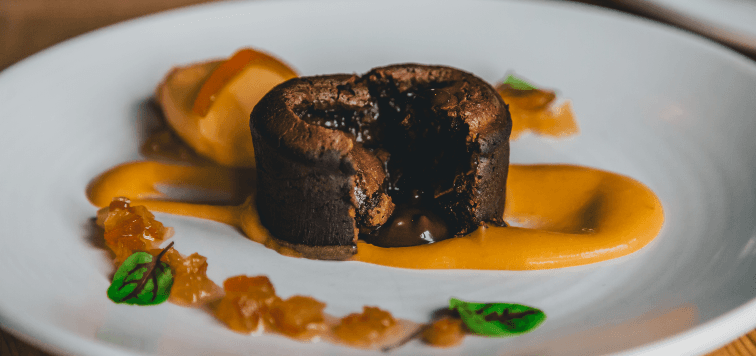 Melt in the mouth chocolate fondant
Serves 4
From our spring menu which should have launched today, we bring you this delicious recipe for chocolate fondant. Full of chocolatey, oozy goodness, these fondants are best served warm with a drizzle of cream or a scoop of ice cream and some fresh berries. When we re-open we will be serving them with zesty orange cream, spiced cardamon sauce and a zingy ginger confit. Enjoy!
PS. Our recipe calls for one egg yolk but don't discard the white – this can be stored in the fridge for up to two days or frozen in a small pot for up to three months. Once defrosted you can use it for making meringues or as a glaze in baking.
Allergens: Contains dairy, eggs & arrowroot
Ingredients
2 eggs

1 yolk

45g icing sugar

80g 70% dark chocolate

80g unsalted butter (plus extra for greasing)

15g arrowroot (or plain flour)

10 cocoa powder
Method
Grease inside with the butter the four 5cm x 6cm steel rings (or ramekins), then coat with the cocoa
Place the rings on baking paper on a baking sheet
Melt the chocolate and butter in a heat proof bowl set over a pan of simmering water (do not let the bowl touch the water). Stir to ensure that it doesn't burn
Place the eggs and egg yolk into a bowl with the icing sugar and whisk until pale and fluffy
Slowly add the melted chocolate and butter, plus the arrowroot.
Whisk until the mixture has doubled its size, is thick and pale and leaves a trail on the surface
Carefully spoon the mixture into the rings (or ramekins) until they are 3/4 full
Chill in the fridge for 30 minutes
Preheat the oven 180C (160C fan/ gas mark 4) and transfer the fondants to the oven and bake for 8 minutes or until the tops have formed a crust
Remove the fondants from the oven and place on the plate they are to be served on. Carefully remove the rings if using them. Serve and enjoy!