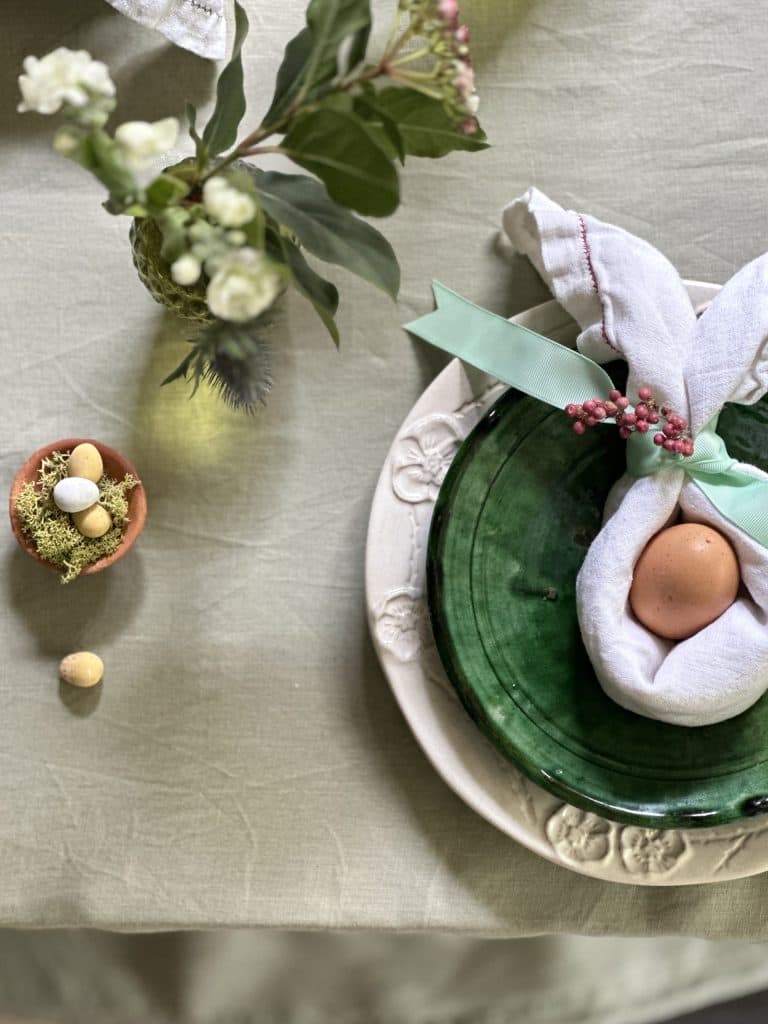 Easter table inspo
Our award winning Head of Design, Inge offers some gorgeous ideas to help spruce up your Easter tables this coming Sunday.
EASTER HUNT TABLE
If you can't get outside for an egg hunt this Easter, bring the magic inside instead. Here are our tips for creating a table of whimsical delight guaranteed to make all feel special.
Play with scale – use miniature versions of everything to give an Alice in Wonderland sense of magic – mini bunnies, eggs, blossoms..

Use espresso cups for sweet honey tea or hot chocolate.

Use vintage butter knives and cake forks to keep the scale going.

Make eggshell baskets & fill them with moss or grass and mini speckled eggs, or simply sit some mini chicks on the top of some moss with mini eggs scattered at their feet.

Use little individual bud vases for foraged blossoms or spring daffs to tie together your colour ways.

Light tiny candles, which always bring a sense of magic & occasion to a table.

Get your kids to help you create a centrepiece with bunnies, or eggs, and use cake stands to give them height & drama.

Use soft cotton tea towels as oversized napkins and twirl them to make holders for your eggshell baskets. Or why not wrap them around your eggs on your place settings, tie together at the top to create a fun bunny outline, finished off with a pretty satin ribbon.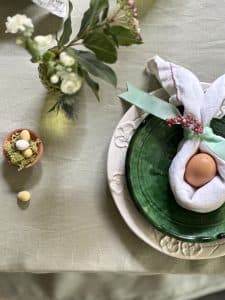 NATURALLY ELEGANT
If you have a more grown up Easter Sunday lunch in mind, this table uses an elegant palette of natural colours and grown up greens along with sustainable natural materials such as linen, potted plants, foraged flowers and fresh herbs.
In my examples I have used one of my linen tablecloths as a base for my colour palette. You can do the same with a piece of fabric, a linen sheet or your favourite table cloth.

Once you have your colour base agreed, layer up plates and bowls using crockery that matches your chosen colour palette, in this case green & natural / neutral with pops of soft and ivory pink.

Use linen or cotton napkins to layer up the textures.

Make a centrepiece of greens with some pops of accent colours.

Add fresh green herbs to your empty plates or bowls for decoration. Fresh picked bay smells gorgeous.

I've upped the wow factor by using my collection of green glassware. The tumblers are recycled glass – my favourite!

Get the good stuff out, the stuff you don't use everyday to bring a sense of occasion to your get-together.